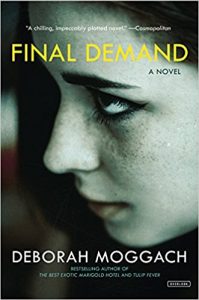 This is a page-turner! Very immediate, contemporary and absorbing.
Natalie works in the accounts department of a telecommunications company. She is young, attractive, bored, and short of money. A colleagues' chance remark on how easy it would be to tamper with the checks she processes plants the seed of a nefarious idea in her mind. Just one minor detail before she can begin…she needs to change her initials. Natalie is a determined young lady and very thorough in her preparations. The details of her scheme are so very plausible.
But, there's no such thing as the perfect crime. Or the victimless crime. One small oversight on Natalie's part causes distress in the lives of others….and sadly, tragedy for one family. Wracked by guilt, the victim's father makes the Final Demand of Natalie. How does this self-absorbed young woman respond?