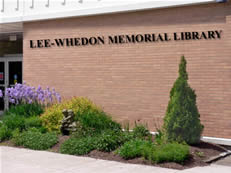 Lee-Whedon Memorial Library, located in Medina, NY, is a school district public library, permanently chartered by the State of New York in 1962. Original funding for the library was provided in 1928 by Mr. William U. Lee through a trust fund managed by his daughter, Mary Lee Whedon. After many years of close association with the school, and being housed on school property, the library moved to its current location in 1966. The new building was made possible by an extensive building fund drive executed by  several key community leaders.
The library is chartered to serve the Medina Central School District, but in fact, serves all of Orleans County. Approximately 85% of our funding comes from a library tax based on the school district boundaries,  the remaining 15%  comes from library fines, State and County aid, and various grants as well as donations and memorials. View our 2012 Annual Report.
The Lee-Whedon board consists of five board members, each serving a (5) year term, who are elected at the Annual Meeting of the Library in May. To be eligible for election as a Trustee the candidate must be a citizen of the United States, of full age and a resident of the Medina School District.
The current Trustees serving on the library board are:
President: Maryellen Dale – term ending 5/2014
Vice President: Isabella Mark – term ending 5/2013
Cynthia Kiebala – term ending 5/2015
Stephen O'Dea – term ending 5/2016
David Schwert – term ending 5/2017
Lee-Whedon has five full-time staff members and eight part-time staff, all of whom play an integral part in the growth and structure of our library.
Catherine Cooper – Director
Kristine Mostyn – Assistant Director
Karen Colquhoun – Technical Services
Catherine Williams – Interloan Services
Suzanne McAllister, "Miss Mack" – Children's Services
Sharon Kleinhans – Accounting Clerk / Tech
Lisa Pritchard – Library Clerk
Mitzi Fredericks -Library Clerk
Lacy Houseman -Library Clerk
Kari Costich - Library Clerk
Kenneth Lambert – Library Clerk
Lisa Husung – Substitute Library Clerk
Marna Grimes - Adult Page
Amber Bensley – Student Page