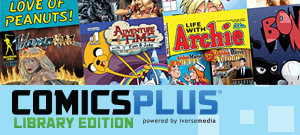 Did you know we have comics and graphic novels available for you to read online? Our newest collection, ComicsPlus just became available to our patrons. It has over 13,000 titles available all the time. You get each title for 7 days before it automatically returns itself. If you weren't done, you can just check it out again. You will never need to place a hold.
To get started, click on the image above. Once the link opens create an account using your Lee-Whedon library card number. Then enjoy full access to this wonderful collection. Popular titles include Bone, Adventure Time, and Ninjago. The collection contains titles and content for all age groups, from children to adults.
ComicsPlus compliments Zinio for popular magazines and Overdrive for eBooks and eAudiobooks. Let us know what you think!