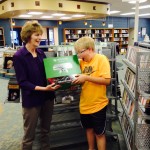 During April and May of this year we ran the Check Out Challenge. The point of the challenge was to showcase some of the amazing digital collections we offer in addition to our print collections. Each participant had to complete 7 tasks in order to enter the contest. Each week we gave away local prizes to our patrons that had completed their entries. NIOGA gave away 3 large prizes that any entrant from the 21 libraries could win. We were thrilled when NIOGA drew the name of one of our patrons for second prize, an XBOX One console. You can see how excited Lucas was to win!
We would like to thank everyone that participated and hope that you continue to use the services we offer, regardless of format. Make sure to stop by and see us throughout the summer, w
e have lots more great programs and prizes to give away! Anyone ages 10-19 can enter to win a Sphero (the original version of the BB-8 robotic ball) and smaller weekly prizes are given away for ages 5-19. Make sure to pick a flyer at the library for more information.