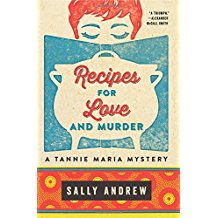 Tannie Maria is a warm-hearted cook who lives in a rural area of South Africa. She writes a food-based agony column for the local newspaper. One of her readers asks:
I am wondering what really matters? Really. Family? Duty? God? Friends? Food? Love?
Tannie Marie replies with great warmth and wisdom:
In the end what matters most is love and food. Without them you go hungry. And you need them to enjoy all of the other things you write about.
And Tannie Maria loves to cook and to share food. Soon she becomes involved in a murder investigation because of a letter she received from a lady looking for help with an abusive husband. Good food helps her unearth vital clues.
The book gives a very warm feeling for the area, its landscape, weather, and wildlife. Characters use many Afrikaans words. The meaning can generally be inferred from the context but a glossary is also provided. Recipes for the meals and cakes mentioned are also provided.
If you like Alexander McCall Smith's mysteries set in Botswana, this book is for you.
Warning: Do not read this book when you are hungry or if you have no food in the house.