Welcome to the Worlds of Wonder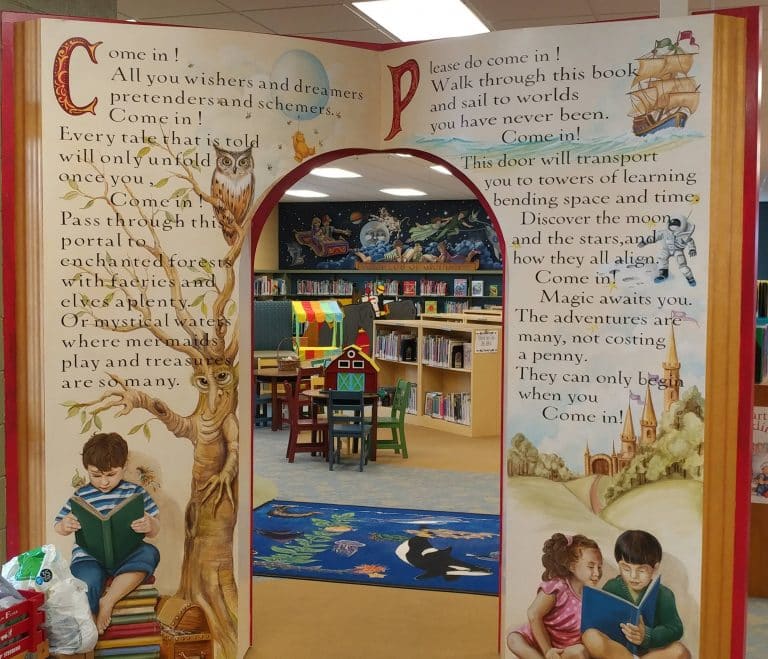 As you walk through the front doors of the library, the children's department is located through the giant Storybook, directly on your left. Inside, you will get lost in your imagination and find many things to read and fun things to do. We hope you visit us soon!
Bookie
Every Tuesday @ 9:30 a.m.
Starts October 3
Join us for storytime for our rookie readers! Reading begins with language acquisition, so let's enlist all of our senses to absorb sounds, shapes, rhythms, and concepts. This free program is for children ages 0-2.
See-Saw
Every Tuesday @ 10:45 a.m.
Starts October 3
Let's come together in this storyhour to develop our pre-reading skills! It all comes down to making connections. What will you recognize? This free program is for children ages 3-5.
Bottega
Every Thursday @ 3:45 p.m.
Starts October 5
Visual ways of perceiving and thinking are invaluable to comprehension, critical thinking, creative problem-solving, and wonder. Let's encourage it with hands-on, interactive workshops designed to cultivate visual literacy. This free program is for children ages 5-10.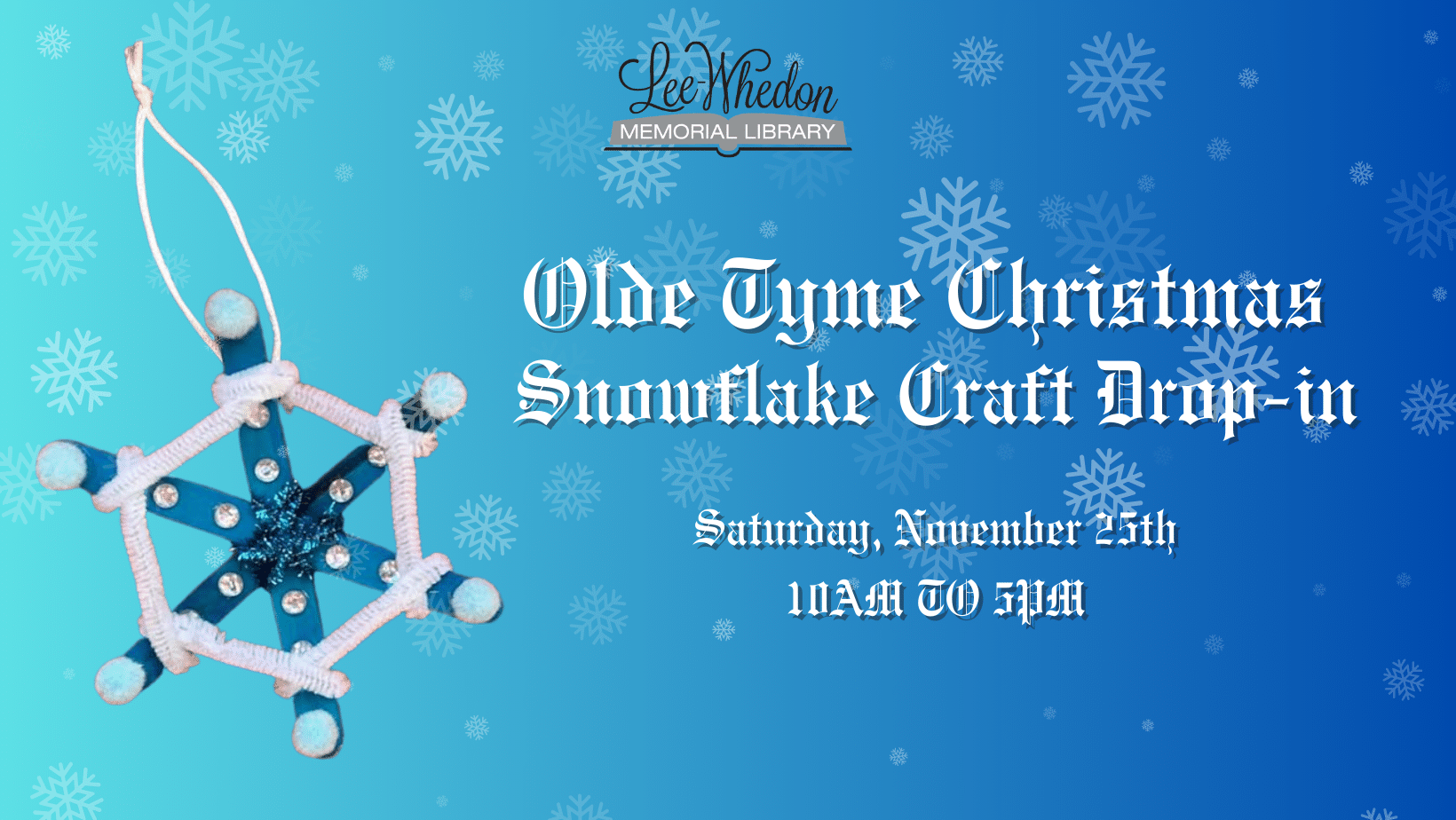 Olde Tyme Christmas
Snowflake Craft Drop-in
Saturday, November 25th
All day during library hours
Bring your friends and family and stop in throughout the day for a self-directed craft during the hours of 10-5. Registration is not required for this free program. For all ages!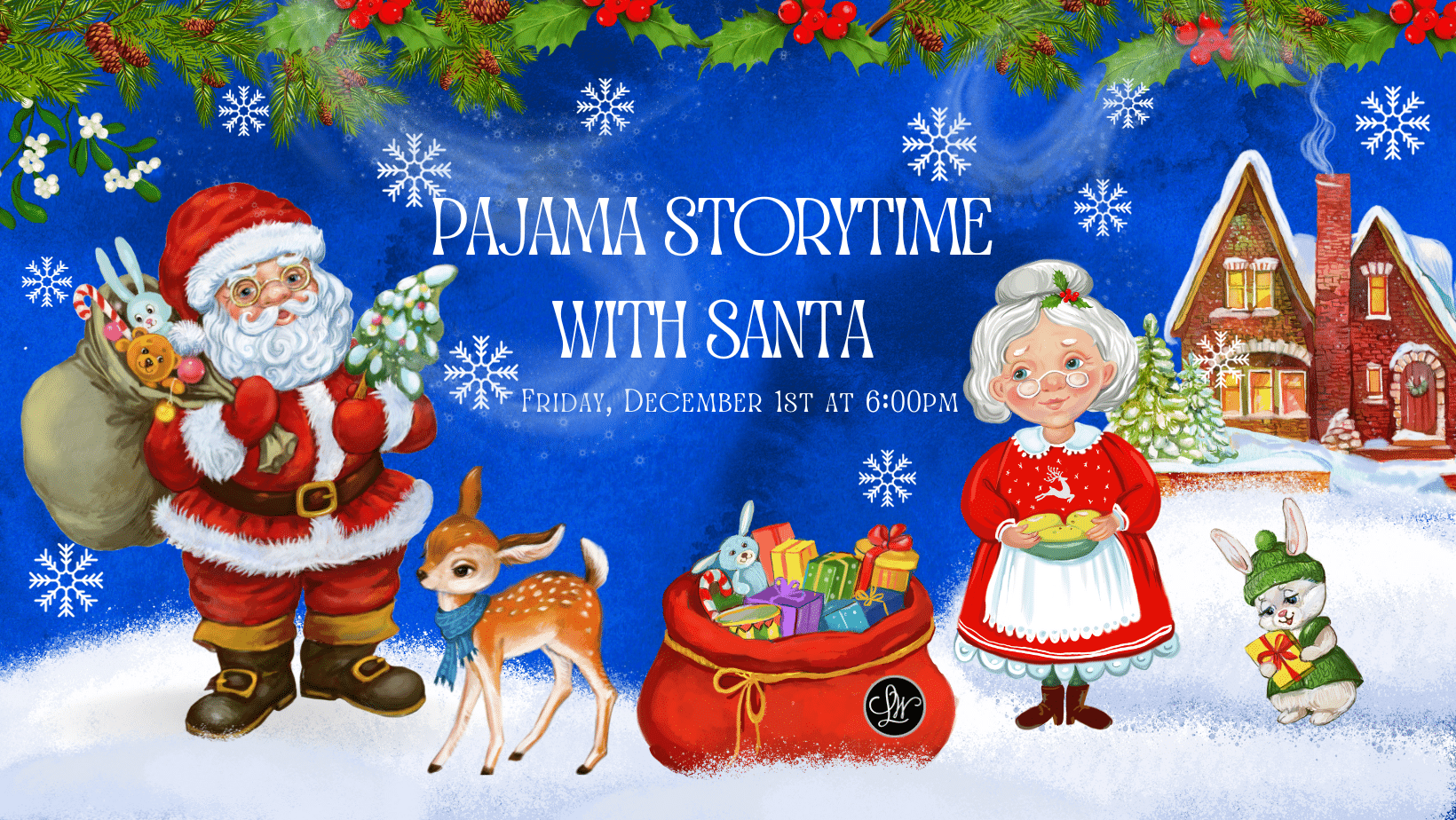 Pajama Storytime with Santa
Friday, December 1
6:00 p.m.
Time to don your Christmas jammies! Santa Claus will be bringing holiday cheer once again with his visit to the library. All ages are welcome!
Christmas Craft Drop-In
Select Saturdays in December
All day during library hours
We will be setting out a self-directed craft each Saturday, leading up to Christmas. Just drop in! For ages 3-10.
December 2 – Beaded Candy Cane
December 9 – Nutcracker Ornament
December 16 – Clay Christmas tree




HomeCool
Wednesday, December 13
11:00 a.m.
Bring your curiosity and creativity as we discover together! Each month we'll cover a particular theme to enrich your student's experience and nurture their joy of learning. This free program is open to all homeschoolers ages 0-10. If you have already registered for a previous session of Homecool, you do not need to register again.
Does my child need a library card to take books out of the library?
Yes, your child must have a library card to take books out of the library. If he/she does not have one, please fill out an application at the front desk before the start of storyhour. The first day of storyhour is quite hectic and it is a great help to desk staff if cards are issued in advance. Your child's library card can be kept at the front desk for the entirety of the program.
Can I suggest events for the library?
Yes, just fill out our survey and let us know.